In recognition of outstanding individuals who have made exceptional contributions to the EarthCube community, the Leadership Council initiated and awarded several 2015 EarthCube Community Service Awards, given out at the All Hands Meeting (AHM) in Washington DC.
The purpose of these awards is to honor individuals who have volunteered significant time and made an important impact in the formative stages of EarthCube. Nominations came from the Leadership Council this year, but it is hoped that future awards will be formalized through the EarthCube Engagement Team.  We solicit input on the formulating guidelines for EarthCube awards, and expect future nominations will come from the community.  This is a way to encourage excellence, showcase exemplary role models, and thank people for their tireless efforts. This year focused on early career stage researchers who are truly volunteers in non-elected positions, and not currently on any funded NSF EarthCube projects.
The 2015 awards of a certificate and a polished rock slab of colorful Triassic petrified wood or a hunk of copper ore went to the following individuals:
Plato Smith – Plato's expertise is in information and library sciences, in a data curation post-doctoral position at the University of New Mexico. He has been active in the Technical Architecture Committee (TAC), and serves as the co-chair of the TAC Funded Projects Gap Analysis Working Group. He was particularly instrumental in conducting a survey for evaluating EarthCube funded projects. His website is: http://platosmith.com
Yolanda Gil and Margie Chan of the Leadership Council's 2015 Awards Committee, with 2015 Community Service Award winner - Plato Smith, and Jay Pearlman (right) co-chair of the TAC.  
Mimi Tzeng – Mimi is a data management specialist at Dauphin Island Sea Lab in Mobile Alabama. She has been a vocal and active participant in EarthCube's Science Committee and the Liaison Team. Mimi has been a leader in the Science Committee's Gap Analysis Working Group and was a valued contributor to the EarthCube Science 2020 Vision document.
EarthCube 2015 Community Service Award winner Mimi Tzeng (right) with Margie Chan (Engagement Team chair).
Simon Goring – Simon is a paleoecologist at the University of Wisconsin-Madison.  He has been active in the EarthCube Engagement Team, coming up with novel ideas for professional meeting sessions to highlight EarthCube and early career travel grants.  He served on the organizing committee for the 2015 All Hands Meeting and has been an enthusiastic spokesperson for EarthCube. His website is: https://downwithtime.wordpress.com/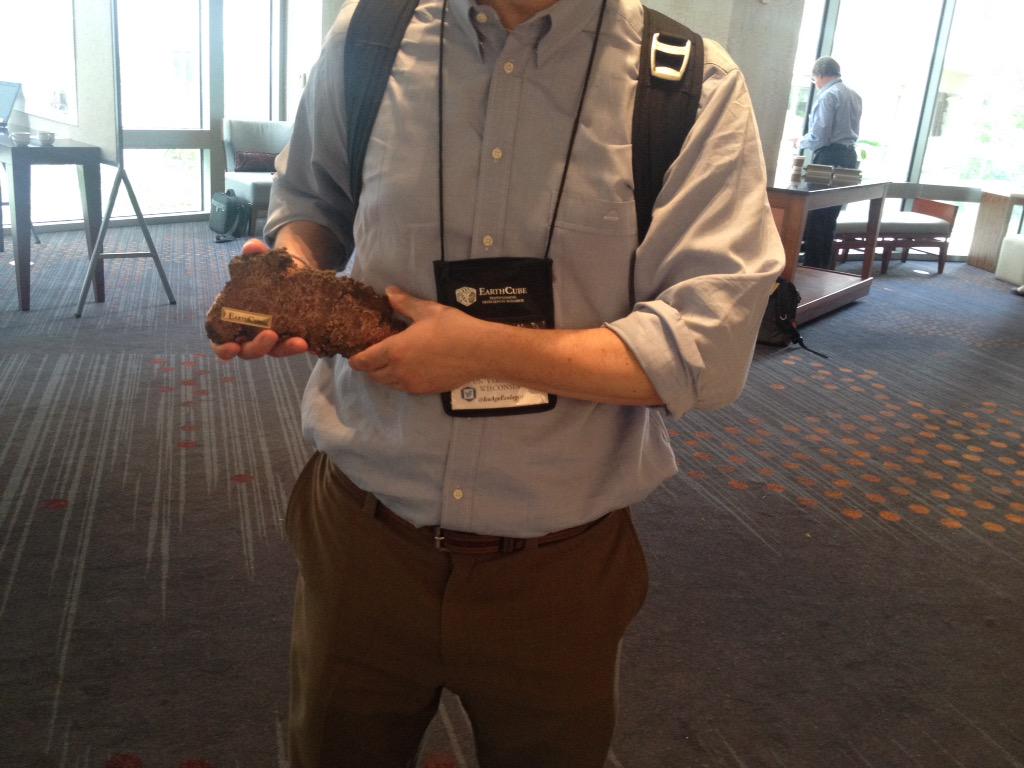 Simon Goring also received an award but was not present in the awards event.
Congratulations to these three!  We are also grateful to many more volunteers and researchers involved in EarthCube. You, the community, is what will make EarthCube a success!